///// DESIGNED FOR COMMERCIAL TRAINING, FITNESS, & PHYSICAL THERAPY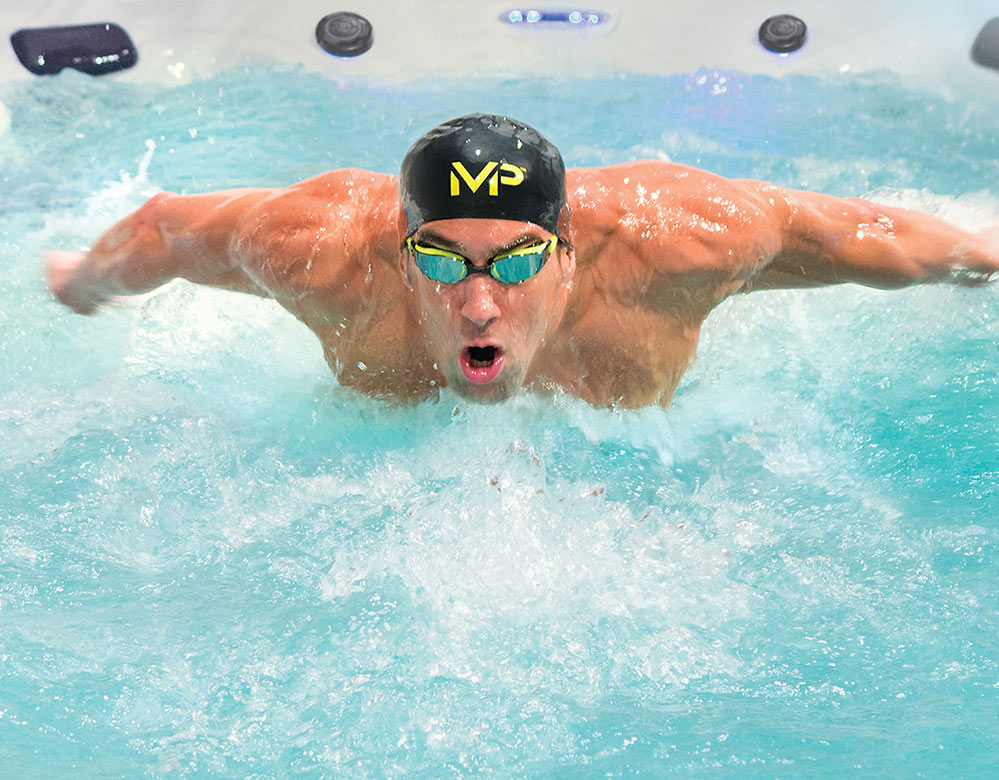 The Michael Phelps RX Swim Spa by Master Spas was developed with input from 18-time gold medalist Michael Phelps and his coach Bob Bowman for all types of training, swimming, fitness programs, and aquatic therapy. Its state-of-the-art Wave Propulsion Technology allows the user to swim against a current that can be adjusted to their desired resistance. SNAPP (the SwimNumber App) allows the user to select preprogrammed or custom workouts, and controls the speed of the water current at timed increments to achieve a highly effective workout. This commercial swim spa is a perfect solution for growing your membership by adding swimming and aquatic exercise to your club.
Aquatic exercise is rapidly growing in popularity across the country. Unlike other swim and fitness spas, the Michael Phelps Signature Swim Spas by Master Spas has a large flat floor with no hidden obstacles. The water's buoyancy and controlled temperature make the swim spa ideal for a variety of fitness exercises. You can jog in place against a gentle current, use an optional kickboard, or the H2X Aquatic Exercise System which includes a rowing kit and resistance bands and comes standard on all models. With the current off, you can experience the benefits of resistance training and range of motion exercises.
There is no better cure for life's daily dose of stress than a therapeutic spa massage. Whether your goal is to improve circulation, relieve pressure on your joints, soothe aching muscles, or simply melt away the tension and fatigue, we offer the most luxurious spa experience. Powerful pumps give you complete control of the strength of the jets — from a gentle touch to maximum muscle-kneading force. And convenient steps allow you to enter and exit safely.
The unique Xtreme Therapy Cove (XTC) allows you to find the optimum position for a complete therapeutic massage for your lower back, hips, thighs and calves.
The Xtreme Therapy Cove allows you to find the optimum position for a complete therapeutic massage for your lower back, hips, thighs and calves.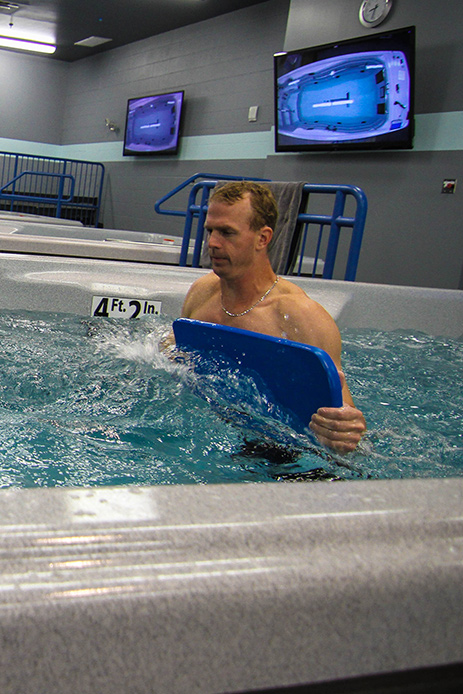 Aquatic Therapy takes advantage of the water's unique properties of buoyancy, hydro-static pressure, viscosity and flow to create increased therapy opportunities. Water provides both a supportive and resistive environment that when used appropriately aides in reducing pain, spasm and swelling. Aquatic therapy is an effective and safe means for performing strengthening, functional and sports-specific activities.
Complete physical therapy protocols and policies have been developed for the MPRX.
Designed exclusively for use with Michael Phelps Signature Swim Spas by Master Spas, SNAPP will help you design and control a custom Smart Workout that meets your specific needs and reaches your fitness goals. Available to download through the Apple App Store for your IPad or IPad mini, SNAPP is easy to use, customize, and operate as it literally takes over the Wave PropulsionTM System of your swim spa and will intuitively change the speed of the water current at timed increments while the user is swimming or exercising. SNAPP will track your progress including distance, calories, time, and more. It also allows you to manage your workout history by storing workouts for future reference, as well as share your results on social media or via email.
SNAPP also features preprogrammed Smart Workouts and videos designed by world renowned swimming coach Bob Bowman and aquatic fitness expert Dr. Rick McAvoy along with exercise workouts designed for that inner triathlete in all of us. Meet and exceed your swimming and fitness goals using your Michael Phelps Signature Swim Spa by Master Spas and SNAPP.
So what sets the MP Rx swim spa apart from the crowd? The XP Pro High Performance Wave Propulsion System. With its unique propeller design, this system offers a deeper, wider, smoother current which is fully adjustable to the desired level of resistance.
THE MOST ENERGY EFFICIENT SWIM SPA YOU CAN BUY!
Because the propulsion system runs on a super energy-efficient industrial motor, it costs 70% less to operate than ordinary swim spas.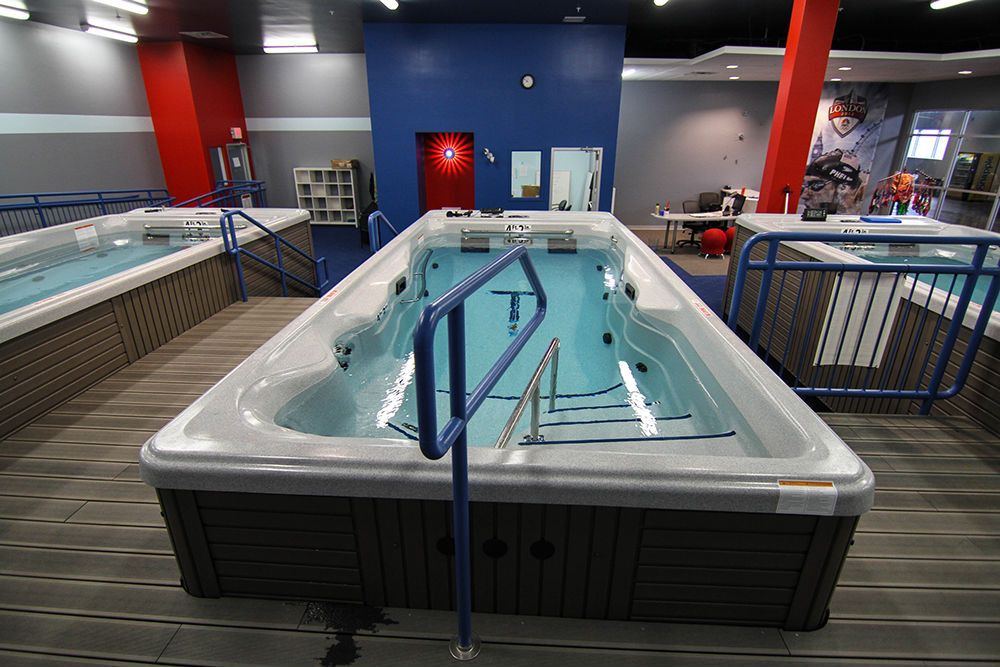 At Master Spas, we have worked for nearly 30 years to perfect your spa experience. Each design is master-crafted to achieve enhanced, innovative therapy and high-tech advancements in insulation, filtration and heating systems. Here are a few of the proprietary features that distinguish the H2X Swim Spas as top-of-the-line in design, construction and performance.
• Powder coated box steel* provides the toughest, most durable frame you'll find anywhere.
• Box steel reinforcements give the frame's top flange greater strength.
• Frame is finished with a high density polymer base that helps keep the heat in & unwanted pests out.
• Environmentally-friendly icynene foam insulation makes an H2X Swim Spa one of the most energy-efficient spas in the industry. It also helps support the weight of the plumbing in the swim spa. As well, high-density foam panels are laminated to the back of the skirt panels for even greater insulation.
• Our manifold plumbing system ensures that pressure is distributed equally among the spa's jets.
High tech polymers make maintenance easy.
• Our DuraMaster Premium™ polymer skirting has the look of real wood but is virtually maintenance free. It features authentic wood grain patterns for a rich, three-dimensional look. And it's easy to maintain with a cloth and garden hose. This skirting is so rugged it comes with a LIFETIME WARRANTY!
• Our system uses a high output Corona Discharge Ozone generator to help ensure that any remaining bacteria or metals in the water will be destroyed.